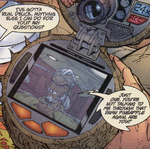 The Pineapple communicator is a communications device that has both audio and video. When open, the user can make contact with others. When closed, it looks like an ordinary pineapple.
While in The Bahamas, Duncan used the pineapple communicator to talk with Deuce about adding Abbey Chase to his team.
Appearances
Edit
Ad blocker interference detected!
Wikia is a free-to-use site that makes money from advertising. We have a modified experience for viewers using ad blockers

Wikia is not accessible if you've made further modifications. Remove the custom ad blocker rule(s) and the page will load as expected.