Kharnov von Kripplor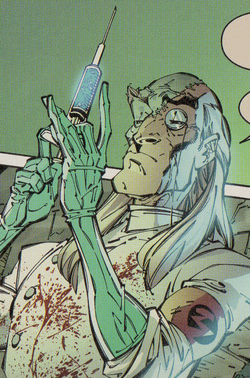 "You're not touching Sydney or any of us, you freakin' Nazi psycho!"

— Johnny Barracuda yelling to Kharnov von Kripplor [src]
Kharnov von Kripplor is a mad scientist working for Hammer.
In his laboratory, von Kripplor tested his Serum X on Falcon, which was a failure. Major Maxim is the only one capable of successfully ingesting Serum X.
Appearances
Edit
Image Gallery
Edit
Ad blocker interference detected!
Wikia is a free-to-use site that makes money from advertising. We have a modified experience for viewers using ad blockers

Wikia is not accessible if you've made further modifications. Remove the custom ad blocker rule(s) and the page will load as expected.