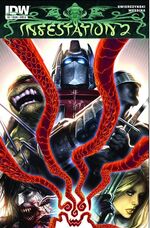 Infestation 2 is a comic book mini-series published by IDW Publishing in 2012. It was a crossover series that involved a number of IDW properties, which included Teenage Mutant Ninja Turtles, TransFormers and G.I. Joe. Abbey Chase only appeared on the cover of Issue 1, but had a small cameo appearance in Issue 2, having only appeared on 4 pages.
Infestation 2 #1 (only appeared on the cover)
Ad blocker interference detected!
Wikia is a free-to-use site that makes money from advertising. We have a modified experience for viewers using ad blockers

Wikia is not accessible if you've made further modifications. Remove the custom ad blocker rule(s) and the page will load as expected.