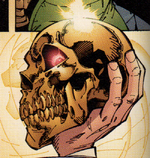 The Golden Skull of Koo Koo Diego is an old Mayan treasure. It was once the skull of Koo Koo Diego, but it was later covered with gold plating and a red gem was placed in it's left eye. The treasure is over 200 years old.
Donavin Conrad had the Skull in his possession because he wanted to take it to a pawn shop and get lots of money for it. But relic hunter Abbey Chase managed to take it from him while they were in Costa Rica.
Appearances
Edit
Ad blocker interference detected!
Wikia is a free-to-use site that makes money from advertising. We have a modified experience for viewers using ad blockers

Wikia is not accessible if you've made further modifications. Remove the custom ad blocker rule(s) and the page will load as expected.