Danger Girl Preview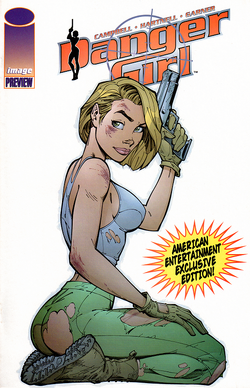 Danger Girl Preview was the first comic book ever released in the Danger Girl series. It was a 16 page full color book released in December 1997 that introduced the world of Danger Girl. The first 8 pages were actual story. The remaining 8 pages were early concept sketches by penciler J. Scott Campbell. There were also three variant covers.
In Costa Rica, relic hunter Abbey Chase is held captive by Donavin Conrad, and he holds the Golden Skull of Koo Koo Diego, the priceless treasure Abbey was after. Donavin tries to charm her before killing her, but a perfectly timed explosion creates a good enough diversion for Abbey to make her escape. As the chase begins, Donavin disappears and escapes in his speedboat.
Wanting to get the Skull back from Donavin, Abbey commandeers a jeep and follows Donavin's boat alongside the water. Being shot at by some of Donavin's goons, Abbey was forced off a cliff. She tries steering the jeep, but she and the vehicle end up going over the edge.
Appearances
Edit
Characters
Edit
Locations
Edit
Vehicles and vessels
Edit
Miscellanea
Edit
Pop culture references
Edit
Cover gallery
Edit
Ad blocker interference detected!
Wikia is a free-to-use site that makes money from advertising. We have a modified experience for viewers using ad blockers

Wikia is not accessible if you've made further modifications. Remove the custom ad blocker rule(s) and the page will load as expected.